When we mind our environment, allowing ourselves the space to recharge, to rest and find moments of peace, that's when we begin to unlock our ability to nurture creativity.
When was the last time you walked to the end of a winding dirt road? Or tilted your head slightly upward toward the warm sun, with your eyes closed and your mind truly (and I do mean truly) resting? When did you last reconnect with an old friend, or carve out time for yourself to sit in a quiet space and just be? When did you last read a book… to the end? Draw a picture? Giggle and snuggle with your children? Turn off all your technology?
A couple of days ago, a friend described my chosen path as one where I "embrace my creative heart." While I've always fancied myself a creative spirit, it's difficult to look back and think about the months, sometimes years that passed without picking up a paintbrush or feeling like my genuine self. I recognize the persistent and pervasive challenge to find (or intentionally make) personal time, quiet time, moments to deeply connect with one's self and with others.
Life is demanding. Who holds a dozen+ titles daily? Here are just a few of mine: mother of two, wife, friend, role model, daughter, sister, aunt, founder, entrepreneur, marketing consultant, children's book illustrator and author, business advisor, volunteer, chef, photographer, graphic designer, chauffeur, bus stop greeter… and the list goes on, and on, and on. It must. I suspect your list does as well.
But you see, the thing is, I find myself at a time and place in my life when I diligently put a very important priority at the top of my list every day. There is one truth that informs and molds all aspects of my life. It's not groundbreaking, nor is it really all that profound.  
I follow my heart and I live my values.
It's really that simple.
Sure, I have a good head on my shoulders (and I use it), but I'm increasingly aware that the secret to happiness, fulfillment, good health, purpose and being fully and authentically engaged in life is to listen to the voice and feeling that rests at my very core.
Do I believe in intuition? I absolutely do. Do I weigh risks and rewards and make informed decisions? I absolutely do. Do I relish every moment I have with those I love? I absolutely do. Do I get a solid seven to eight hours of sleep every night? Oh yea, you bet I do.
When the noise of life is drowning out the sound of the wind in the trees, when you grow deaf to the pitter patter of your children's little feet running down the stairs, when the enjoyment of human connection feels dull, pause, take a breath. Then take another, and another. Tilt your head up toward the sun and let the rays warm your cheeks. Close your eyes and just be still.
Over this past spring, summer, and fall the kids and I went on many walks to the end of the winding, dirt farm road at Willow Pond Farm, past the apple trees and the fields of crops, before or after picking up our weekly share of organic vegetables. It was there that we forged a bond with Poley, a wee little piglet who grew up before our eyes. We visited (practically) every week throughout the entire growing season, watching Poley and the other piglets romp around happily in a picturesque muddy pasture.
Being mindful of our environment not only nourished our bodies and our minds, it also nurtured our creativity and our connection – with one another, and with the world around us.
Not only has Poley become a star character in our growing library of interactive children's books, debuting in October 2019 with Poley the Picky Piglet Does Not Like the Soup, the experiences and dialogue that accompanied our walks down the farm road are what life is really all about. Eva and Tyler know where their food comes from, they love to pick apples and blueberries, green beans and strawberries. One of the other piglets had an early summer name change from Mars to Galaxy when he grew in size. Because, well, as Tyler explained that only made sense. We have been mindful of every giant mud puddle following a heavy rain, and the seasonality of the changing flowers we passed by as we walked (or in some cases ran) along the winding dirt road. We've carried on conversations with our pig friends, shouted out a hearty hello to the sheep out in the pasture, and toppled off the hammock a time or two. Life – we're living it.
With a budding fondness for wool felting, I leave you with these final thoughts. The time I've carved out in my schedule that is for me, and me alone, is from 4:00 to 5:30 am. The house is still and there isn't a sound to be heard other than the wind or rain, and the distant sound of the early freight train passing through the other side of town. Some days I may read a good book, or my earbuds will stream a podcast or audiobook that's hooked my interest.
A very tactile person, I've recently discovered that I love creating wool fiber paintings. You can browse and purchase a few of my pieces in the online art gallery here at Binding Tales, and follow our page, Inspired Fiber Designs, on Etsy. Fiber arts have always been an interest of mine, having sewn clothes, quilts, and costumes throughout the years. Getting to know the farmers who raise the sheep, whose wool I am now creating with has been a wonderful part of developing this craft. In fact, this coming Saturday I'll be spending my afternoon with other fiber artists at A Wrinkle in Thyme Farm; learning, creating, and connecting with members of the Maine Felting Group.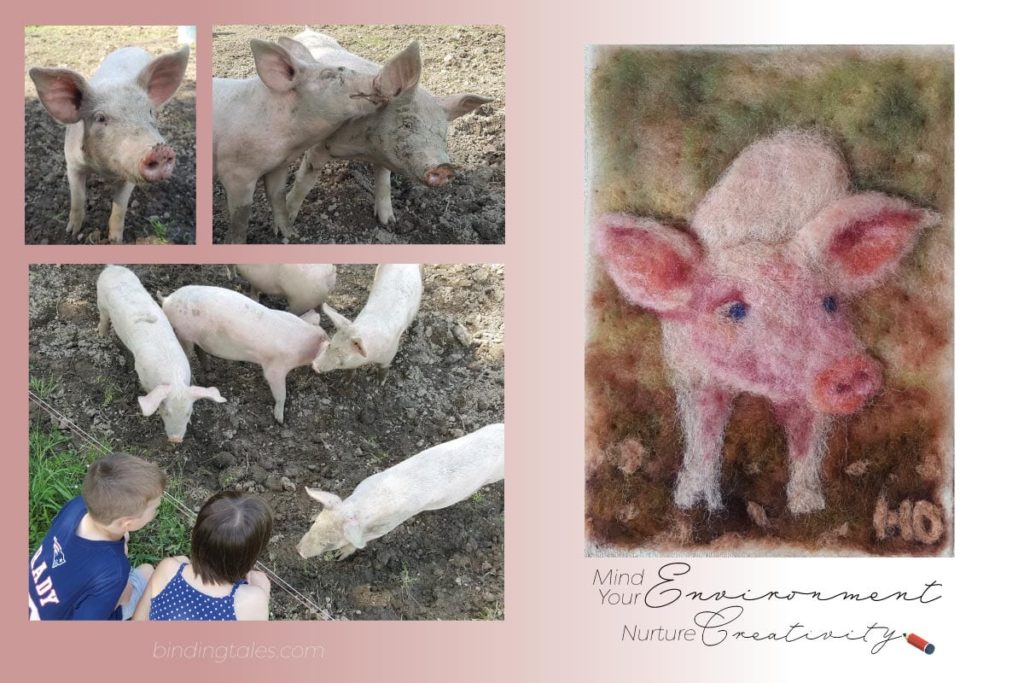 Last Thursday was our final pick-up for the community supported agriculture (CSA) summer share at Willow Pond Farm. While the pasture at the end of the winding farm road now sits empty, the legacy of a precocious little piglet will live on.
Allowing ourselves the space to be mindful of our environment will spark inspiration and nurture the creativity that resides in all of us.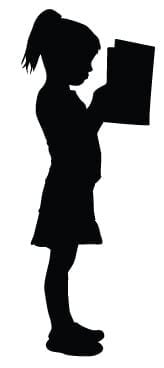 Latest Release ~ Our Favorite Picky Piglet