Welcome to Lichendia®
Would you like to hear some fabulous news? The paperback copies of Fairy Spells and Strawberry Elves are in and the first batch of books have been shipped! The hardcover edition is in the final stages at the printers and will be done soon!
I'm still hoping to share some behind the scenes pictures and videos of the printing process, but COVID is throwing a wrench in those gears. More to come (if all goes well) on that front.
Tonight is the first zoom session in an eight week virtual Felter's Master Class and membership, which I am very excited about. Members will learn felting techniques and artistic design fundamentals as we felt together online. I will be working on illustrations for my next book throughout the series. Check out more in the details below.
As always, thank you for following along and sharing this journey with me. Take care and enjoy the spring blooms!
---
Fiber Arts Community
One of the many aspects of this business that I absolutely love is the intersection of art, farming, community, food, learning, experiences and so much more.
What do I mean by this? Meet precious baby lamb Kate, our 2021 adopt-a-lamb. Kate lives happily at A Wrinkle in Thyme Farm. This year all of the lambs were given names that begin with K. During a car ride in late winter, on our way home from a day of ice-fishing, Eva and Tyler worked together to come up with names that begin with K. Eva's top pick was Kate and Tyler's was King. With our adoptee being a girl, Kate it is!
We got to meet Kate on Maine Maple Sunday during a wonderful visit to the farm. When Kate's first shearing rolls around we will receive her wool fleece. She will also get special attention from us when we visit, like the gift of her fashionable needle felted bow!
Marty and Mary Ann own and operate A Wrinkle in Thyme Farm, the most amazing fiber arts farm located in Sumer, Maine. It was in their retail shop that I picked up my very first batch of wool and needle felting kit. I've continued to learn so much from them and will be forever grateful for their guidance, inspiration, and encouragement!
It was my pleasure and privilege to assist with the design, development, and implementation of their online e-commerce store in 2020. I heartily encourage you to visit their online shop to browse yarn, roving, batts, kits, spinning supplies, and more.
This coming Friday I'll be spending the day at the farm dyeing more pink and orange wool for my Happy Hearts… with some videos and marketing time sprinkled in there. Did I mention this is also a well intentioned and much needed "Mommy's day to herself"? Indeed.
And of course, the maple syrup we purchased on Maine Maple Sunday takes our weekend buttermilk waffles to a whole other stratosphere!
---
Felter's Master Class
The felting master class is a series of live zoom lessons that run over an eight-week period. Members all receive one year of access to the felter's master class portal, with access to recordings of our lessons and exclusive member's only content. Our goal is to provide a forum with group and individualized instruction and create an environment that fosters meaningful and lasting connections.
Our eight live sessions, with instruction, include:
Fiber Canvas Prep
Composition & Background
Landscape – Trees – Plants
People – Characters
Objects – Structures
Working in 2D & 3D
Development
Masterpiece Completion
Classes will be held on Zoom Tuesday evenings from 6:30 to 7:30 pm est. The cost of membership in the Master Class is $200 paid in one annual payment or monthly payments of $16.50.
Take your felting to a whole new level!
Join the Felter's Master Class Today!
---
Sharing the Magic
With each book, there will be an accompanying "Featured Felt". In Fairy Spells and Strawberry Elves, the 2021 Spring Featured Felt is Happy Heart.
In the book, you'll see a happy heart on the wall of Eva's workshop where she concocts the potion for the annual strawberry spell.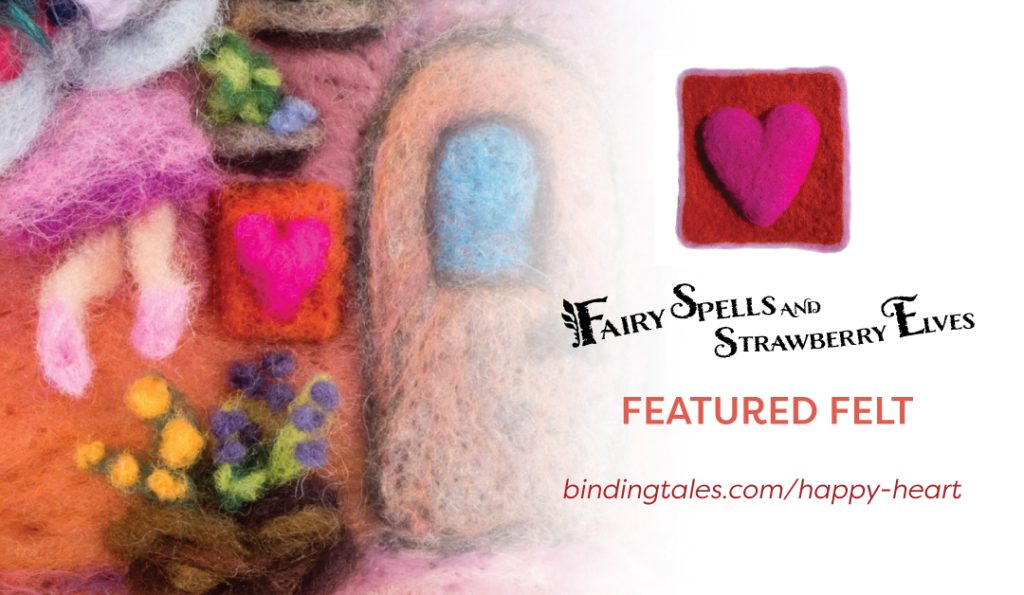 Eva's in the know… felting is a fabulous way to:
slow down and get your creative juices flowing
support fiber farmers & artists
expand your art collection
This design includes my signature combination of adding a pop of 3D to a flat wall hanging. The heart pops off the wall!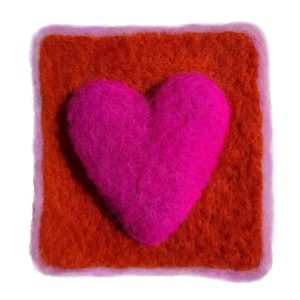 Happy Heart