Description
ABC Illustrations – Buy Original Art
An original ABC illustration could be yours! As a tool to help fund the self-publishing process, and to share our art with others, we are placing the majority of the alphabet illustrations up for sale. Buy your favorite before it's gone! The illustrations are divided into three pricing tiers; $75, $100, $150.
Each piece measures approximately 6″ x 6″ and has a wool loop felted directly to the back, making each piece ready to hang on the wall. Our recommendation is that you do not frame felted artwork behind glass. When you view felted artwork without any obstruction you see each and every beautiful fiber!
$75 ABC Illustrations
Apple, Earth, Football, Heart, Lollipop, Quilt, Rainbow, Sun, Watermelon, Umbrella, Volcano, Yarn
$100 ABC Illustrations
Butterfly, Goldfish, Juggler, Pencil, X-Ray
$150 ABC Illustrations
Dancer, Iris, Musician, Nest, Octopus, Turtle
These illustrations are all featured in Hillary Dow's first board book, coming out in late December 2023! Pre-Order Your copy today!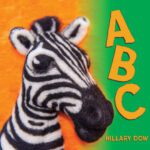 Be sure to follow us on social media for a front-row seat along the journey of creating children's picture books illustrated with wool! Watch and learn as our felting projects come to life on the pages of our books for young children!